The Time Lie
Excerpted from The Right to Write by Julia Cameron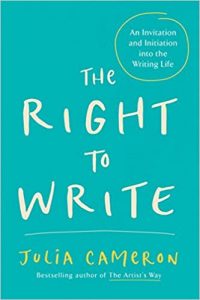 "If I had a year off, I'd write a novel." Maybe you would. Maybe you wouldn't. Often the greased slide to writer's block is a huge batch of time earmarked: "Now write." Making writing a big deal tends to make writing difficult. Keeping writing casual tends to keep it possible. Nowhere is this more true than around the issue of time.
The myth that we must have "time"—more time—in order to create is a myth that keeps us from using the time we do have. If we are forever yearning for "more," we are forever discounting what is offered.
Just at the moment I have out-of-town guests coming in, a meal to cook, horses to feed, and my dogs would really like a good long walk. I may or may not get to the "long" part of the walk, but I will get to everything else—right after I write. Years as a single mother, a full-time teacher, and a full-time fiction writer taught me to grab for time to write instead of wait for time. Grabbing is what I am doing right now. Grabbing works.
For most of us, the seductive and unstated part of "if I had enough time" is the unstated sentence "to hear myself think." In other words, we imagine that if we had time we would quiet our more shallow selves and listen to a deeper flow of inspiration. Again, this is a myth that lets us off the hook—if I wait for enough time to listen, I don't have to listen now, I don't have to take responsibility for being available to what is trying to bubble up today.
The "if-I-had-time" lie is a convenient way to ignore the fact that [books] require being written and that writing happens a sentence at a time. Sentences can happen in a moment. Enough stolen moments, enough stolen sentences, and a [book] is born—without the luxury of time.
Lawyer Scott Turow wrote his riveting novel Presumed Innocent on his daily commuter train. My student Maureen has managed nine full-length screenplays while raising an infant son and juggling a design career. Michael, another student, wrote an entire book in his "spare" moments the year that he got his master's degree. All of them did it by making time to write rather than waiting to "find" time.
If we learn to write from the sheer love of writing, there is always enough time, but time must be stolen like a quick kiss between lovers on the run. As a shrewd woman once told me, "The busiest and most important man can always find time for you if he's in love with you and, if he can't, then he is not in love." When we love our writing, we find time for it.
The trick to finding writing time, then, is to write from love and not with an eye to product. Don't write something perfect; just write. Don't try to write the whole megillah; just start the whole megillah. Yes, it is daunting to think of finding time to write an entire novel, but it is not so daunting to think of finding time to write a paragraph, even a sentence. And paragraphs, made of sentences, are what [books] are really made of.
The obsession with time is really an obsession with perfection. We want enough time to write perfectly. We want to write with a net under ourselves, a net that says we are not fools spending our time doing something that might not pay off.
The lies we tell ourselves about writing and time are all connected to envy, to the fairy tale notions that there are others whose lives are simpler, better funded, more conducive to writing than our own.
The trick to finding writing time is to make writing time in the life you've already got. That's where you've got leverage. Stop imagining some other life is a "real" writer's life. Key West sunsets do not make a writer's life. Trust funds do not fund the flow of ideas. All lives are writers' lives because all of us are writers.