Authors Guild of Tennessee is a group of about fifty professional writers who live in East Tennessee. Many of our stories are set in this area, reflecting either its present-day culture or its history.
Click on any book to link to the Amazon listing for description, price, and reviews. Click on the author names for brief biographies and other information.
Mission Statement: To support, encourage, and facilitate our members in their writing projects, and to promote their work on social media, at fairs, festivals, book signing events, and in local retail stores.
Marketing Commitee member Randy Carpenter and Facebook Coordinator Jody Dyer were two who worked on the presentation on social media for April's meeting. Jody spoke on the importance of using Facebook to market yourself and AGT, citing statistics proving it is the world's most popular social media.
Cyn Taylor wins $25 Amazon gift certificate for reading and reviewing the most books in the first quarter — twelve. Congratulations, Cyn!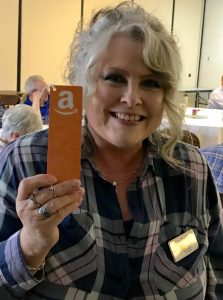 The Featured Author for the month of April is Richard F. Cross
---
AGT Weekly Radio Show - Sunday Mornings @ 8:35 a.m.
http://www.wuot.org/programs/authors-page
The Authors Page, a production of AGT and WUOT, is a weekly segment airing on Sunday mornings at 8:35 a.m., hosted by AGT member and award-winning author/artist Jody Sims. Each week, Jody shares the back-story of a famous (or sometimes not-so-well known) author who is from Tennessee, or who has written about Tennessee. Encouraging the development of higher literacy is an important component of AGT's mission. The Authors Page is just one way AGT is able to enhance the reading experience by getting to know authors more personally, discovering details about their books, and often finding inspiration through their challenges or successes.
---
Dogwood Arts Festival, Apr 26-28 @ Fri, 26 April 2019
@ , TN
Dogwood Arts Festival Fri, Apr 26, 10am-8pm Sat, Apr 27, 10am-8pm Sun, Apr 28, 11am-5pm Krutch Park at Market Square, Knoxville, Booth 107. Eleven confirmed participants have received/will receive schedules via email. Liability insurance purchased and forwarded to festival organizers. Must setup Thurs, Apr25, 4-6pm, and teardown by 9pm Sun.
---