I'm pleased to announce the publication of Choosing Family, the fifth book in the Boone series.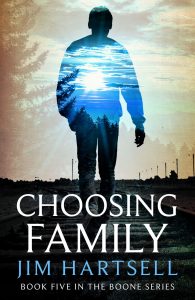 A few weeks after returning from his road trip through the Southeast, Boone is feeling restless. He and Frankie are soon back on the road, heading to Virginia to visit some friends he made on the trip they just finished. When he gets word that his sister Hannah is in trouble he turns around, although he's not sure if there's anything he can do to help.
Renting a small house some distance away from his hometown, Boone starts to make his own way, out from under the shadow of his father's reputation and influence. Meeting Molly helps him begin to understand that they can refuse to let either past history or present limitations define them. 
Obligations to the family he was born into compete with the life he is trying to build for himself, and he starts to realize that the word family can mean much more than he once thought it did.
Available now on Amazon in ebook format. For the print version, ask for Choosing Family at your local independent bookstore, like Union Avenue Books here in Knoxville. If they don't have it they'll be glad to order it for you (along with the rest of the series). Or you can check my website for the craft fairs and festivals where you can find me this year. Also, Amazon should have the option to buy the print version up and running shortly, or you can contact me directly; my first order of print copies should be here within the week.
*  *  *
Recently I was contacted by my printer/distributer and told that unless I raised the retail price, I would be sending them money every time they sold a book instead of the other way around. My apologies for the increase; it was necessary. I plan to continue selling the first four books of the Boone series at their original price at shows and festivals as long as my supply holds out.