The end of last year and the beginning of this one have been quite a whirlwind. November 15th was the publication date for Crossroads to the Stars, my first published adult novel (but by no means my first written adult novel!) Then I immediately was told that Zorro Productions had initially approved a three novel trilogy called Zorro's Pacific Odyssey. I had submitted those last summer after the publication of a Zorro anthology that I had submitted a novelette to. (Zorro the Daring Escapades).
The editor of Bold Venture Press sent me their suggestions and then Zorro Productions sent me some as well. An artist, Francisco Silva, created three stunning covers (go to Bold Venture Press to see the finished product ( https://www.boldventurepress.com/ )- it all belongs to ZP and I don't want to mess up with copyright faux pax at this time.) I had never individually named the novels so the name game began. Rich, the publisher, came up with Zorro and the Outward Journey. I came up with the middle one–Zorro and the Forbidden Country. We wangled a bit on the third one, but finally came up with the title, Zorro and the Deadly Homecoming.
There were edits and more edits and finally a last run through before the final approval by ZP. It's a whole different ball game when dealing with a copyrighted character.  Right now, you can only pre-order that one on the Bold Venture Press site above. All three books are available on February 11th.
And while all that was going on, my middle grade fantasy, First Realm came into the editing queue. First Realm is a prequel to Realms of the Cat where a very young TB has to figure out a way to get his dog buddies, Butch and Spencer, away from dogfighters. They are helped by an array of animal friends who hate the dogfighters as much as TB and his friends do. I added illustrations, and the book is available at Amazon for pre-order. That one is official on February 14th.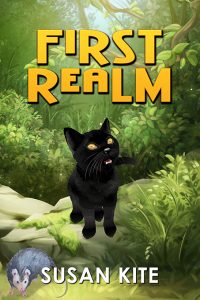 Phew!
BTW I will be in Florida on March 14th for Pulp Con.